Looking For Something Unique
&

Different?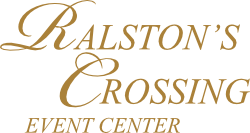 ​Welcome to Ralston's Crossing Event Center.
There is truly no place like it! More than 100 years of history have helped create this perfect venue, where creativity is encouraged, and affordability is a priority.
A Ralston's Crossing rental includes all this:
Bridal Suite
Chapel
2 acres of beautifully manicured grounds
Ambiance lighting throughout the property
Gazebo
Waterfall
Firepit
Covered and heated open-air pavilion
Custom in-house professional sound system
180 dedicated ceremony chairs
180 dedicated reception chairs
Six (6) banquet tables – 8′
Eight (8) banquet tables – 6′
24 round tables – 60″
Two (2) round tables – 40″
Three (3) – cocktail height tables
14 shepherd hooks
8 stained wine barrels
Bar area
One-hour rehearsal
30-day walk through with caterer
2 horse troughs for canned & bottled beverages
Free parking
Photo booth available
Only 25 minutes from Denver, 25 minutes from Boulder and 10 minutes from new light rail station G line.
Visiting Ralston's Crossing
We look forward to meeting you! Helping you to achieve your dream wedding is one of our favorite things.
We have open house tours every Wednesday from 4-6 p.m., except on holidays or in case of inclement weather. If we need to cancel our open tours due to a weather event, we will post that on Facebook. If Wednesdays do not work for you, please call to schedule a tour on another day!
We have an extensive list of highly professional and delicious catering options. We are happy to refer you to a caterer that best meets your vision. Self-catering is only allowed for very small events. Please contact Ralston's Crossing staff for more information.
We follow all laws of the state of Colorado. You are allowed to bring in liquor to serve to your guests. An insured, TIPS certified bartender is required.
Quality Mobile Sound has professionally installed an amazing sound system customized for our venue. They will meet with you to insure a seamless and unique event and act as master of ceremony. Other DJs are allowed but they must bring their own sound systems. For anyone requesting a "plug-and-play" event, the system is available for rent.
To Ralston's Crossing Event Center!